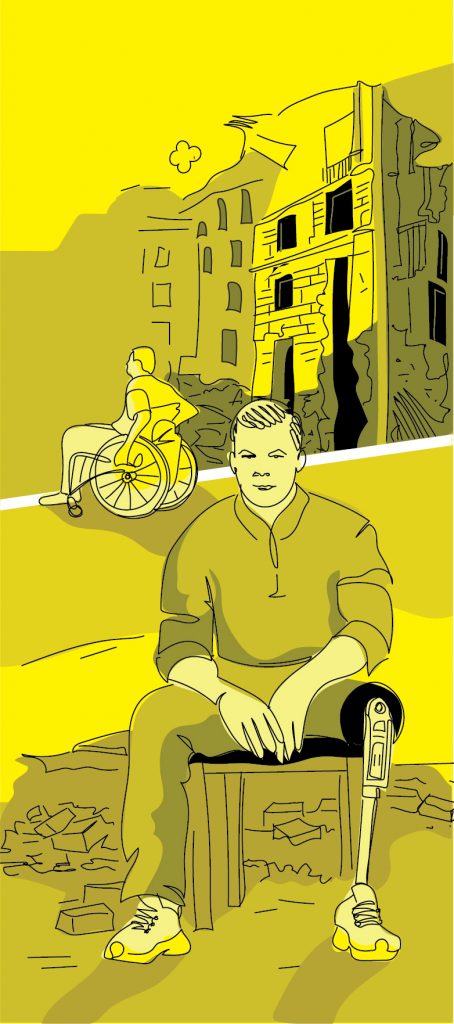 Undoubtedly, Russia's brutal and unprovoked invasion of Ukraine has led to the most significant humanitarian crisis in recent European history. This unprecedented international criminal act of the Kremlin has brought severe consequences for civilians in various aspects, including forced migration, the destruction of critical infrastructure, including homes, hospitals, schools, and enormous casualties and injuries. While the comprehensive documentation of Russian war crimes and their consequences is still ongoing, one crucial aspect remains evident. In Ukraine, the number of people with one or more disabilities has significantly increased because of the war.
In Ukraine before the start of the war, more than 2.7 million persons with disabilities were registered. But partial data shows that this figure has dramatically enlarged. According to the United Nations High Commissioner for Human Rights (UNHCR), more than 14,600 Ukrainian civilians have been severely injured, while tens of thousands of brave Ukrainian soldiers have been hurt in battle. The real numbers are obviously much larger.
Because of the Russian aggression, many Ukrainians will need to live the rest of their lives with one or more disabilities. For instance, thousands of Ukrainian soldiers might have combat-related permanent injuries such as amputations, traumatic brain injuries, spinal cord injuries as well as hearing and vision impairments. Similar to soldiers, civilians may also experience similar disabilities to soldiers, including injuries from shelling, explosions, and gunfire. The situation concerning people with disabilities in Ukraine represents an unparalleled challenge within a modern society and a relatively advanced European economy.
With hundreds of thousands of individuals affected by disabilities, it has become evident that this segment of the population will play an integral role in shaping the Ukrainian economy for not just one, but potentially two generations. The implications of this reality demand substantial attention from a multitude of stakeholders and actors invested in the development of Ukraine.
Collaborative efforts are essential to address the multifaceted needs of people with disabilities, ranging from accessible infrastructure and inclusive education to employment opportunities. In this context, digitalisation and the digital economy offer a crucial avenue for people with disabilities in Ukraine. Granting them independence through digital accessibility and education beyond reliance on welfare will be crucial for the future of Ukraine. And it is imperative that post-war Ukraine stands poised to cultivate an inclusive, forward-thinking digital economy, marked by diversity, shared prosperity, and the resounding principle of equal opportunity for all.
Achieving digital inclusion and accessibility for all will be a formidable endeavour, necessitating robust collaboration among Ukrainian government entities, international organisations, and civil society. But three preconditions are essential to achieve a real digital inclusion in Ukraine, and the Ukrainian government should focus on these complementary actions.
Digital Education: Ukraine must increase and enhance its investments in digital education and skills development, placing a very strong emphasis on vocational and STEM (Science, Technology, Engineering, and Mathematics) education for veterans and individuals with disabilities impacted by the conflict. This will significantly enhance their employability, facilitate economic inclusion, and contribute to overall economic development.
Web Accessibility: Ukraine should further develop digital accessibility in every aspect of society, including e-government, education, and public services. For instance, Ukrainian state authorities can enhance web accessibility for all state and private websites, integrating features to ensure their usability by individuals with visual and hearing impairments.
Cooperation with the Tech Sector: the Ukrainian government should establish a business environment conducive to increased investment in the digital tech sector, with a specific focus on fostering the establishment of digital-tech companies that promote educational opportunities and employment for individuals with disabilities. For example, fiscal benefits and additional tax advantages could be implemented to incentivise companies that sponsor a specified number of digital skills initiatives targeting disabled veterans and injured civilians.
However, it is important for other stakeholders to also contribute, as the issue of digital inclusion will continue to be pivotal for Ukraine's overall future and its sustained recovery over the long term. These actions are supplementary and hold equal significance to the government's role in ensuring that no individuals are excluded or left behind.
Civil Society Organisations (CSO): In the present day, data concerning the extent of war-related disabilities and their impact on individuals remains notably restricted. This limitation is partly due to the Ukrainian government's pressing and very legitimate concerns related to national defence and survival. Nevertheless, CSO  can assume a pivotal role in addressing this data gap by undertaking the collection of information on disabilities caused by conflict in the country and making it accessible to a larger public both in and out of Ukraine. In doing so, CSOs can also engage in the essential task of identifying the distinct needs for social inclusion among disabled individuals in Ukraine and advocate for them in larger fora at the European and international level in order to raise awareness on these issues.
International Organisations and Donors: International organisations and donors have a crucial responsibility to provide more and larger grants aimed at supporting individuals with disabilities in Ukraine. Additionally, they should actively foster awareness regarding the pressing issue of economic integration for this demographic, for instance in terms of digital accessibility and inclusion.
Private Sector: private companies can play an important part in ensuring that people with disabilities and wounded veterans are socially included in Ukraine. For instance, small and medium companies (SMEs) can take part in advocacy campaigns related to inclusion and ensure that their premises and websites are accessible to people with visual or hearing impairments. On the other hand, larger companies have the resources to assume a more substantial role by providing substantial financial backing for digital educational initiatives targeting individuals with war-related disabilities, while also extending employment opportunities to them.

In conclusion, it is important that every stakeholder plays its part to ensure that Ukraine remains a country where no one is left behind. Only through this approach, Ukraine can secure a long-term recovery that equally benefits all its citizens.
This publication was originally drafted by the Institute of Innovative Governance within the implementation of the UNDP project  "Promotion of Human Security in Ukraine through Responding to the Multidimensional Crisis Caused by the War" with the financial support of the Government of Japan.
Andrea Castagna
---