The solemn opening ceremony of the Ukrainian Hub was held at one of the European Parliament's premises on Luxembourg Square in Brussels on Thursday, 17 March. The creation of such a centre was initiated by the Promote Ukraine organisation, which became its administrator. The hub will be open to all Ukrainian NGOs in Belgium, as well as to all Europeans who care about Ukraine's fate in these difficult times of struggle against Russian aggression.
The opening ceremony of the Ukrainian Hub was attended by President of the European Parliament Roberta Metsola, coordinator for Ukrainian civil society Natalia Melnyk, Ukraine's Representative to the European Union Ambassador Vsevolod Chentsov, and Head of Promote Ukraine Marta Barandiy.
"We stand by the people of Ukraine, impressed by your courage, resilience and strength in the fight against the big enemy who invaded your territory. We in the European Parliament work every day to provide all possible assistance to Ukraine and its people. So, we decided to open our home for you, for the civil society of Ukraine. We called it the Ukrainian Hub. This is a concrete step that will allow you to use these premises for your work, to coordinate efforts to help Ukrainians fleeing the war, as well as those brave people who are fighting on the ground," said the President of the European Parliament.
According to her, the European Parliament is in constant contact with the Verkhovna Rada of Ukraine, helping to resolve logistics and security issues so that Ukrainian lawmakers can continue their work.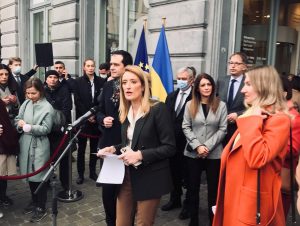 Head of Promote Ukraine Marta Barandiy also delivered a speech during the opening ceremony.
"On behalf of Ukrainians in the EU, Ukrainians who fled the war and Ukrainians who fight the war on the ground, I am grateful for this opportunity to be hosted by Station Europe.
Back in 2013 Ukrainians took to the streets to defend European values. We paid a high price to be able to share the rights and liberties the European Union stands for. Eight years on, Ukrainians are being brutally aggressed for this European choice. In the past three weeks, the courage of Ukrainians became a legend. It gave inspiration and a sense of life to many people worldwide. It has awakened an unseen level of solidarity in Europe. But do average European citizens know who Ukrainians are?
The newly established Ukrainian Hub will serve as a communication platform for Ukrainian resistance and European support. We will make sure that the voices of Ukrainians are heard in the heart of the European Union.
We invite you to come, meet us, bring your initiatives. We will organise all sorts of events: press conferences, conferences, round tables, exhibitions and much more. This will make you feel the spirit of our brave and courageous nation. The Ukrainian nation is contributing to the sustainability of the European way of life," she said.
Barandiy also thanked the European Parliament and the President for making the space in the heart of Europe for Ukrainians.
World media write about it
https://www.europarl.europa.eu/news/mt/press-room/20220316IPR25611/inauguration-of-the-ukrainian-civil-society-hub
https://www.eesc.europa.eu/en/news-media/press-releases/eesc-opens-its-doors-ukrainian-civil-society
https://welovebrussels.org/2022/03/ukrainian-civil-society-hub-brussels/
https://en.interfax.com.ua/news/general/814795.html
https://www.brusselstimes.com/211247/ukraine-european-parliament-makes-brussels-building-available-for-anti-war-efforts
Bohdan Marusyak