600 days… It's been almost 600 long days since that morning when millions of Ukrainians heard the first explosions nearby and their lives changed forever. 597 days since thousands of them realised that staying at home was not an option anymore and decided to move to the safety of another city. And approximately 592 days since the EU activated the temporary protection status and more than 4 million Ukrainians crossed the EU border only to become refugees…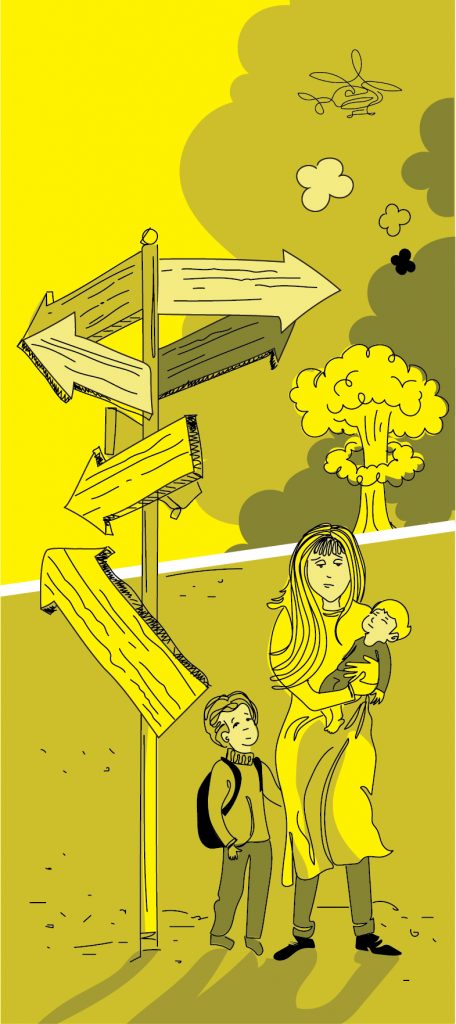 In Ukraine, people don't like the term "refugee" because officially Ukrainians don't get refugee status in the EU, but rather receive temporary protection. That means they are entitled to all the rights equal to an EU citizen: work, education, healthcare, etc. That is until 4 March 2025 (already extended twice for a year each time).
However, the 1951 Refugee Convention officially defines a refugee as: "someone who is unable or unwilling to return to their country of origin owing to a well-founded fear of being persecuted for reasons of race, religion, nationality, membership of a particular social group, or political opinion." And this is exactly what every Ukrainian is going through right now. They were shelled and killed in their homes because they were brave enough to proclaim independence and freedom from oppression some 30 years ago, and even a lot earlier if you read historical books and know the details.
It is simply easier to accept the term "temporarily protected" rather than acknowledging that you are seeking refuge in another country and asking for help. But what many Ukrainians who had to flee the country don't realise, is that accepting the new reality helps you to adjust quickly in a new country. It helps you to stop looking back, get out of that limbo of not being able to get back to their lives in Ukraine and not being ready to start a new life in the EU, and start finding your new goals and dreams.
This is what three of the active Promote Ukraine volunteers did in Belgium. They found safety in the new country, took time to mentally recover and adjust and now they fully embrace the opportunities that Belgium offers, trying their best to integrate and help not only Ukrainians in need, but also become full members of the Belgian society.
What is your name? Iryna
Where are you from? Living in Kyiv, Ukraine
When did you come to Belgium? 14 March 2022
Why Belgium? I found a website where people from all over the world were offering a place for Ukrainians to stay. This is where I found a Belgian family who helped me to buy a ticket and get to Belgium. Back from my university years, I could already speak some French, so it was a good fit. Knowing the language, I was able to go through the registration procedures by myself without bothering others.
Do you think your integration is going well? I wasn't able to work at the beginning, but I already wanted to help. I started taking French classes and decided to offer my services as a volunteer, including helping Promote Ukraine with the translation during different integration events for Ukrainians under temporary protection.
It wasn't easy to find a job at the beginning, but thanks to my volunteering efforts, I encountered an announcement from Promote Ukraine, who advertised a job opportunity with one of their partners "Bibliotheque Sans Frontier." They had a project to support Ukraine. And, probably thanks to my certain level of French, I got that job. It was a temporary part-time job that allowed me to also pass the integration course and continue learning languages. I also found my current job, thanks to my volunteering services. When I was translating at one of the events, a colleague from the BON Integration agency remembered me and offered me a job as an integration consultant.
Now, not only I can continue helping Ukrainians, but I can also help local communities. I am a full member of Belgian society now: making an impact, working, paying taxes, and developing further by improving my knowledge of local languages to be able to speak with people who saved my life.
What are you thankful to Belgium for? I thank Belgian people every single day, my colleagues, my host family, and everyone I meet: for their kind hearts, for their understanding, for their willingness to help and do even more than we need sometimes. I am grateful for the peaceful sky above my head, for my serenity, for help any time I asked for it, and even for the opportunities to have Ukrainian cultural and integrational centers like Prostir by Promote Ukraine in the center of Brussels.
What is your name? Irena Trofymova
Where are you from? Kharkiv, Ukraine
When did you come to Belgium? December 2022
Why Belgium? My mother and my grandmother already came to Belgium after the beginning of the full-scale invasion, and they were able to help me to find accommodation. That's why I came here. I was very lucky with the host lady from Belgium, who offered me temporary accommodation. She was very sensitive of my mental health at that time: she offered me her warmth, support and treated me kindly. I still remember how sometimes she bought me small croissants in the morning and put them next to me when I couldn't get up due to my severe depression.
It started in Ukraine. I lost almost everything at that time: money and financial stability, my job, the prospects for my future and my career. I lost several friends and learnt about the deaths of other people I used to know. My relationships were tested too – my boyfriend at that time was also going through his personal difficulties. It was a bit too late that I realised that my body just couldn't handle it anymore.
I had to get out of the country and find a safe place. Belgium became that safe place for me.
Do you think your integration is going well?
With the help of volunteers, shortly after my arrival even without an ID card yet, I found a Ukrainian psychiatrist, who was part of the Belgian organisation Solentra and was offering professional psychological help to newly arrived Ukrainians. He prescribed the much-needed medicines which helped me to slowly get better and start looking around for the opportunities to be around people and do something useful for others.
I also got in touch with Promote Ukraine volunteers and expressed my willingness to teach yoga, something that always brought me joy. Now, I am an active volunteer at Prostir by Promote Ukraine, our beautiful and quiet space for everyone who wants to find peace and support. I'm teaching yoga several days a week and plan on organising yoga retreats to help other people to recover.
What are you thankful to Belgium for?
I'm thankful for all the help the country offered to Ukrainians to feel safe and peaceful here. They really put a lot of resources into that. What is important, Belgians try to put themselves in our shoes and understand our situation. They don't put pressure on us and allow us first of all to adjust and feel comfortable before starting any kind of integration activities. This is very important.
On the other hand, if someone from Ukraine really lost everything, Belgium offers opportunities to integrate and start a new life. Different free-of-charge events to find a job, learn languages, individual support, and counseling. Even a free public transport subscription is something I am extremely grateful for because it allowed me the flexibility of moving around and being able to find places closer to nature in the moments when I needed to find peace and be alone to recharge.
What is your name? Kateryna Polyakova
Where are you from? Kharkiv, Ukraine
When did you come to Belgium? I arrived on 15 March 2022, a few weeks after the beginning of the full-scale invasion of Russia into Ukraine and the heavy shelling of my hometown Kharkiv.
Why Belgium? This is actually an interesting story. After a week of trying to find a safe place in Ukraine or abroad I finally decided to move to Morocco where a client willing to support me and my family offered a job opportunity. I had a connecting flight via Charleroi. And to my surprise when I arrived, not only did I find out that I needed a visa to Morocco, but I also learnt that they were not offering any kind of support to people fleeing from war, Ukrainians in place. I couldn't get a visa on entry and had to be deported back to the country of departure. This is how I came to Belgium. I have had no regrets ever since.
The very first night a kind Belgian volunteer offered me a place to stay with his family, because I had literally nowhere to go in the middle of the night. Later, they also helped me to find my way around getting a temporary protection status. In the Heysel registration centre, I was offered by the employees accommodation in Brussels with two other Ukrainian ladies.
I had nowhere to go and no friends to support me. Today, I have it all in Belgium.
Do you think your integration is going well?
I still don't have a job. It is difficult to find one without knowing local languages even though I speak English. Hence, I am actively learning French and volunteering a lot. This is also my way of integrating with the local community. Being an active volunteer of Promote Ukraine means also not only having connections with Ukrainians and helping them in difficult situations, but it is also an opportunity to take part in a lot of different projects connected to the EU overall and Belgium specifically. I found a lot of friends, both Ukrainian nationals and Belgian residents of various nationalities through this organisation. I am able to dedicate my spare time to helping other people. I feel safe here. Just like home… before the war.
What are you thankful to Belgium for?
I am very grateful to Belgium as a country and every individual who opened their hearts and their houses to us. They were helping a lot, especially during the first year of the war. They were, and many still are, doing everything they can to support us. Very caring, welcoming, and kindhearted people.
There are 4 million other stories: painfully similar yet different. Being a refugee is not only a status. It is a lifestyle that requires your constant mobilisation, complete concentration, and loads of energy. But unlike many other refugees who left their countries forever and after a period of adjustment realised that they have no return, and they must start their lives anew, Ukrainians still believe that this is all temporary. Temporary protection, temporary home, temporary life.
Perhaps they are right. And shortly we will all be able to get back to our normal lives. But after 600 "temporary" days what is normal: old days before the war in Ukraine or a new way of life in a new country?
Lyuba Karpachova