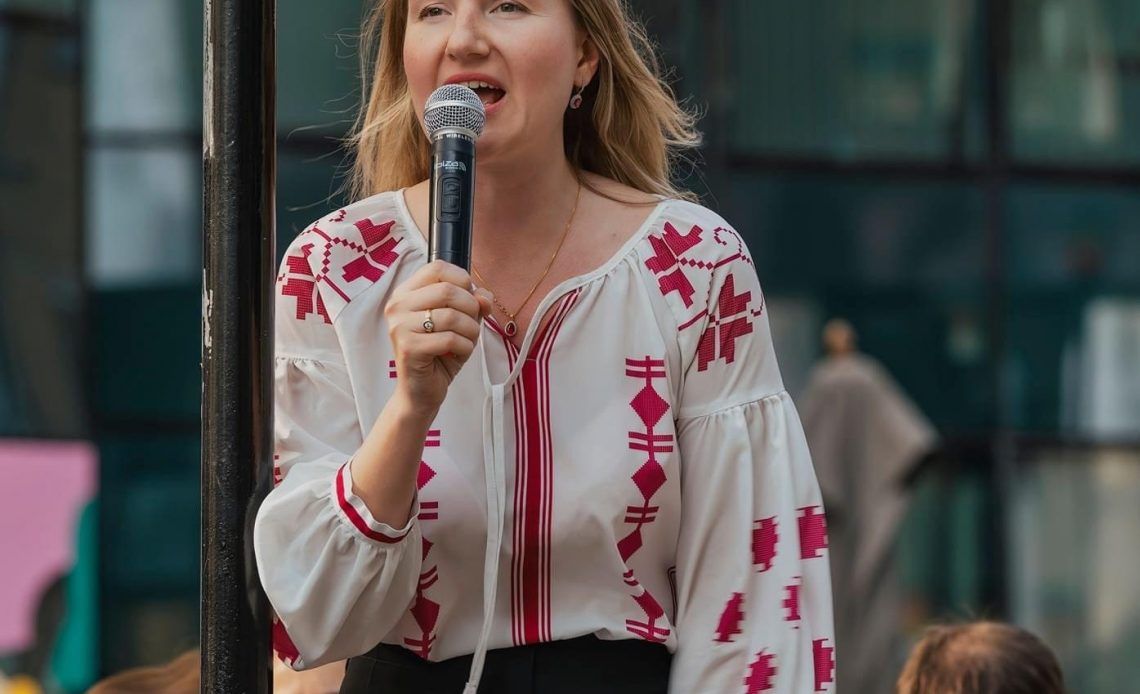 Raising her right hand with a microphone, Marta Barandiy looks as if the Ukrainian Statue of Liberty came to life on Thursday afternoon. The wind pulls her long blond hair as, standing on a small podium, she praises the bravery of the Ukrainian army, calls for the deployment of a NATO peacekeeping mission, a no-fly zone over Ukraine, and an immediate boycott of European oil and gas against Putin. She speaks increasingly louder as if she really believed that Joe Biden and EU leaders could hear her there, 200 meters away.
"Marta Marta," shout some of the 2,000 women and men, wearing Ukrainian colours, gathered near the Station Europe premises. Having delivered her speech, Marta Barandiy looks shocked. Because she doesn't really see herself as a national leader. She is the founder of the non-profit organisation Promote Ukraine, which seeks to provide support and voice to Ukrainian activists in Brussels and organised a rally ahead of the summit. "We do not expect other Europeans to shed blood for us," she said. "We have shed our blood for Europe. But we need more help."
The same appeal is made by her president, Volodymyr Zelensky, whom Marta Barandiy calls a "great communicator" and whose speeches many in the EU institutions are now afraid of. Despite the fact that has not left besieged Kyiv, Zelensky is one of the main figures of the summit. He has joined the summit through videoconferencing thrice, he wears olive clothes thrice, his clear messages are heard in Brussels thrice.
He is not asking NATO to accept Ukraine or close the skies, the opportunity which Biden continues to reject. Ukraine just would like to buy "one percent of your tanks," i.e., 200 units. What else would help? Aircraft, multiple-launch rocket systems, anti-ship missiles. Zelensky urges the G7 to tighten sanctions every week until Russia ends the war.
As convincing as it may sound, it is difficult to convey it to people from Ukraine who fear for their lives or the lives of their loved ones. What does activist Marta Barandiy think about the Germans and their attitude to the war? A difficult question, she answers in her office.
She has many friends in Germany, she doesn't want to upset them, she wants to get rid of that word – "hypocrisy" – when she speaks about the Germans and their government. The Germans have always known that natural gas was an "instrument of war" for Putin, but they have always positioned themselves as mediators between East and West in their supposed neutrality. "But this neutrality makes me angry. How can you be neutral when such injustice happens?"
Barandiy, who grew up in Lviv, is a typical European, one of the many multilingual, cosmopolitan people who characterise the European capital. She is fluent in English and French and speaks German very well. She studied international law at the Europa-Institut in Saarbrücken, did an internship in the European Parliament, and has been working as a lawyer in Brussels for many years. She knows how European lobbying works. Barandiy now works at Station Europe, the premises of a neoclassical-style railway station integrated into the European Parliament's large complex. The Parliament provided the premises of the "old railway station" to Promote Ukraine.
Ukrainian Marta Barandiy arrived in the EU, but at what cost? During the conversation, her mobile phone constantly beeps, buzzes, and sounds. One day she answers, it's her daughter. She will come home later, she says, adding at the end, "I love you." Her mother came to Brussels before the war, as did her cousin and aunt. She is actually an emotional person. But everything changed after the war. "I don't cry anymore. I stopped feeling emotions," she stops for a moment. "It's probably self-defence."
She wrote poems, has been publishing the Brussels Ukraïna Review magazine. Its last issue dated December 2021lies in front of her on a table. It is entitled "Curb the Attack!" It has long been clear to Barandiy and her friends that Putin will attack – since 2014, when Putin annexed Crimea and started a war in Donbas. At that time she founded Promote Ukraine.
She now sits in her Brussels office muttering, "We have always told the same story for eight years, 'Punish Putin! Impose sanctions on the oligarchs, their children, their money! Stop Nord Stream 2! Otherwise, he will invade Ukraine. He hates Ukrainians more than Americans because Ukrainians are freedom-loving people.' For eight years, no one believed us. Now we hear, 'Oh, you were right.' It's good, but at what cost?"
Source: Sueddeutsche.de
Follow us on Twitter