Nine years after Russia's war on Ukraine began, Ukrainian artists call on the European Union and the international community for continuous support to the country and its (digital) culture, Maxence Peniguet and Olivier Baumard write.
Maxence Peniguet and Olivier Baumard are Coordinators of the exhibition Sleepless Ukraine, an art exhibition taking place at Kult XL (Brussels) from 17 February until 26 February 2023, in partnership with Promote Ukraine, the Heinrich Böll Stiftung Kyiv and the commune d'Ixelles.
As the Russian invasion of Ukraine continues to rage on, Ukrainian artists keep pushing their works to the forefront, serving as powerful voices that provide insight into the struggles and resilience of the Ukrainian people. The upcoming exhibition Sleepless Ukraine, starting this week in Brussels, is a testament to this. It will showcase the creativity and commitment of Ukrainian artists who have continued to create powerful and emotionally charged works despite the risks involved.
Some Ukrainian artists and Ukrainian culture can already rely on international support. UNESCO and the European Commission both announced different initiatives aimed at helping and safeguarding artists and cultural items of importance last year. This support is seen in the form of funding and resources, as well as the preservation of Ukrainian cultural heritage and its promotion to the world.
A recent example of this is the decision last month of the World Heritage Committee to inscribe the historic centre of Odesa on the World Heritage List. This recognition is incredibly important as it protects the city's and its monuments' cultural and architectural value.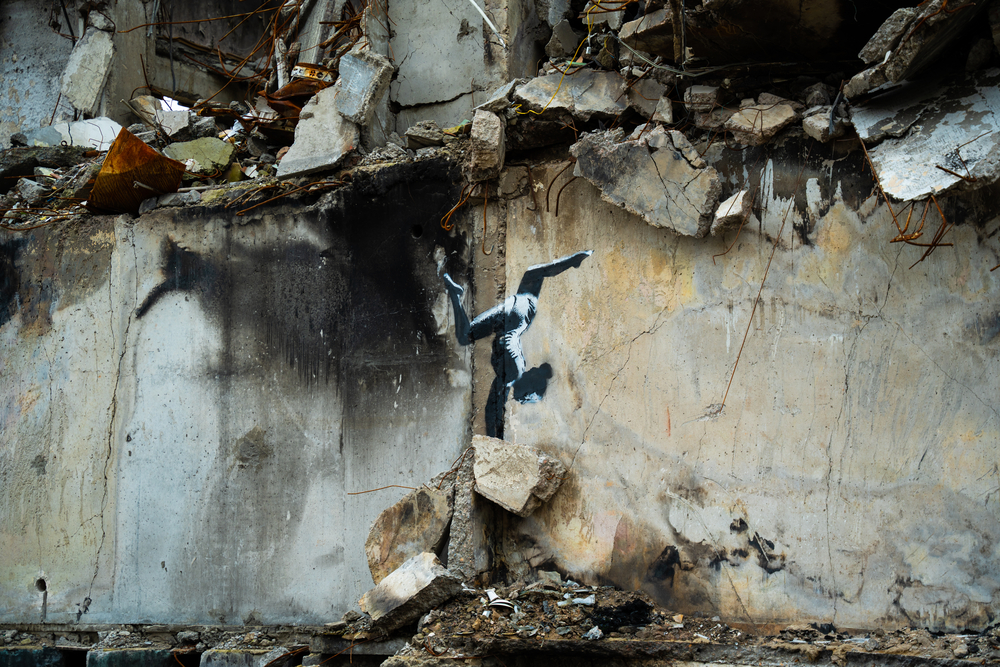 While support of this kind is welcome, it should not stop there and should not succumb to war fatigue. "Support is continuously needed because Ukraine is the European frontline of the bloody fight between old and new values," explains VK from the Meta History: Museum of War. This digital platform uses NFTs and blockchain technology to preserve the victims' memory and the conflict's history.
The money from the sale of NFTs is transferred to a governmental wallet, used to support Ukraine's efforts of war and culture. The equivalent of more than $1 million has been raised so far. VK calls on more support towards digital culture and artists because they are not traditionally helped.
But traditional artists are forgotten by mainstream support channels, too. "There are residencies for Ukrainian artists in European cities," explains Olena Marchyshyna, who now lives in Belgium. "However, they are not really suitable for artists with families," she points out. Hence her request towards support organisations to pay attention to this particular group.
Meanwhile, artists like her are losing their personalities: "We can't be artists because we live in precarious conditions and have to take care of our families above all." Right now, Marchyshyna has three lives: the first as being a newcomer in Belgium, focusing on integration and learning a new language – to eventually find a job; the second is the life of a mother, caring for her children; the third is online, constantly connected to Ukraine, where her husband remains.
This is also where Sofia Oliynyk, from Heinrich Böll Stiftung Kyiv, still lives. She shares Marchyshyna's observations and brings it to national and global levels.
The Russian war on Ukraine "doesn't only affect Ukrainians, it affects many, many, many people around the world". Looking at Ukrainian culture, she calls on the EU and the international community for continuous support and to overcome war fatigue. Nevertheless, this must not only be in terms of supporting artists and museums financially.
"Ukraine needs weapons now. The earlier the weapons arrive, the more Ukrainian lives will be saved," she says. She argues that if the country cannot defend itself with military equipment coming from its allies, the risk is a higher human toll; every delay is a human life.
This call to support Ukraine and its artists is supported by Promote Ukraine, the Heinrich Böll Stiftung Kyiv and Els Gossé, Ixelles alderwoman for European Affairs, Dutch Culture and Neighborhood Life.
Source – Euractiv