In the early hours of Sunday, 28 May, the Russian Federation inflicted the most massive attack on Ukraine with Iranian-made Shahed-136/131 kamikaze drones. The enemy fired 54 UAVs at once from the northern direction – Bryansk region, and from the southern – Krasnodar region, the General Staff of the Armed Forces of Ukraine reports with reference to the Air Force Command.
"In general, a record number of kamikaze drones (54) was recorded. The enemy directed another night attack at military facilities and critical infrastructure in the central regions of the country, particularly in the Kyiv region. Here, in the area of responsibility of the Air Command Centre, most of the attack drones were destroyed," the report reads.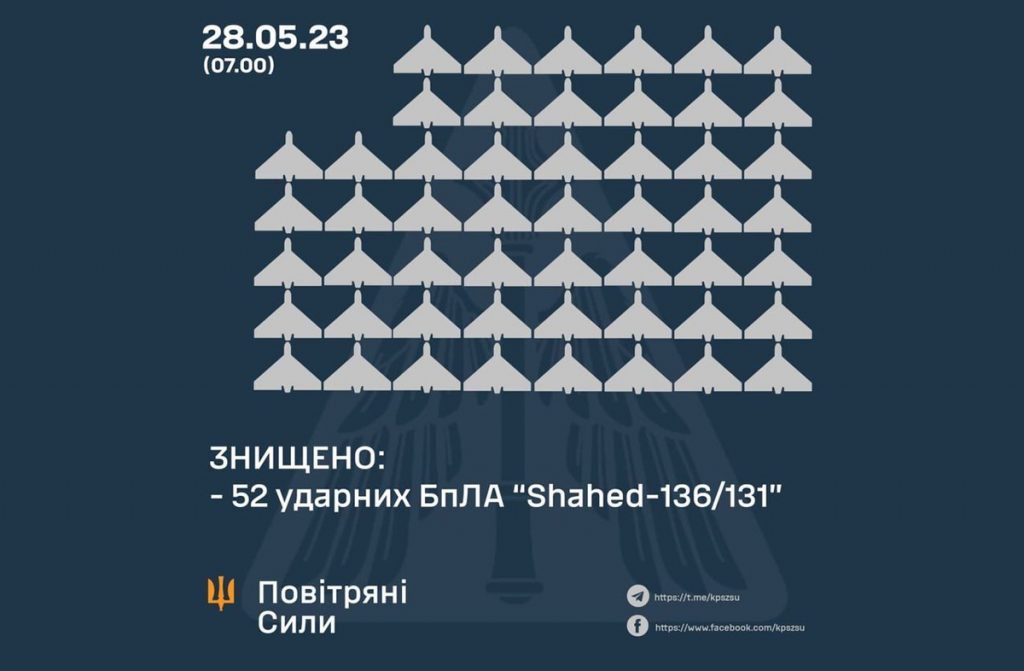 The forces and means of the Air Command South and Air Command West of the Ukrainian Air Force and air defences of other elements of Ukraine's defence forces were involved in repelling the attack.
In total, 52 kamikaze drones were shot down as a result of successful combat work.
As noted in the Kyiv City Military Administration, on the night of 28 May, more than 40 enemy drones were destroyed in the airspace above the capital.
"The 14th air attack on the capital since the beginning of May! Today, the enemy decided to 'congratulate' the people of Kyiv on Kyiv Day using their deadly UAVs. According to preliminary information, this was the largest-ever drone attack on the capital since the beginning of the full-scale invasion, particularly using Shahed loitering munitions. The attack was carried out in several waves, and the air raid alert lasted for more than five hours," Kyiv City Military Administration Head Serhii Popko said.
All enemy targets above Kyiv were destroyed, but falling drone debris led to casualties and destruction in various districts of the capital.
Bohdan Marusyak