An ambulance from the Kharkiv region of Ukraine, struck by the Russian occupiers, went on a tour all over Europe. Now, it is displayed in front of the Ukrainian Hub near the European Parliament (Station Europe) to draw the attention of European politicians, parliamentarians, officials, and the general public to the problem of war.
The action is organised jointly with Fellas for Europe E.V. and pro-Ukrainian activists from Bavaria. NGO Promote Ukraine is the event co-organiser.
The organisers highlight their demands:
– Prosecution and punishment of Russian war criminals
– Continuation of full solidarity with our fellow European citizens in Ukraine
– Intensification of humanitarian and security assistance to Ukraine
During the action, funds are being raised to buy a new ambulance for the Kharkiv region. In addition, during the display of the ambulance on 8 November, its official inauguration by President of the European Parliament Roberta Metsola will take place at the Ukrainian Hub.
The old ambulance is a memorial to Russian war crimes in Ukraine
On 24 February 2022, all of Ukraine was under large-scale attacks by Russia, which partially occupied the border areas. Ukrainians desperately tried to evacuate people, to help them escape from the occupation although Russia did not agree to any "green corridors" for evacuation. Fortunately, in the town of Derhachi in the Kharkiv region, an old, Soviet-era ambulance was still standing in a hospital garage "just in case." A light, all-terrain vehicle could drive through secret roads into villages and evacuate bedridden people who could not be taken out by ordinary cars.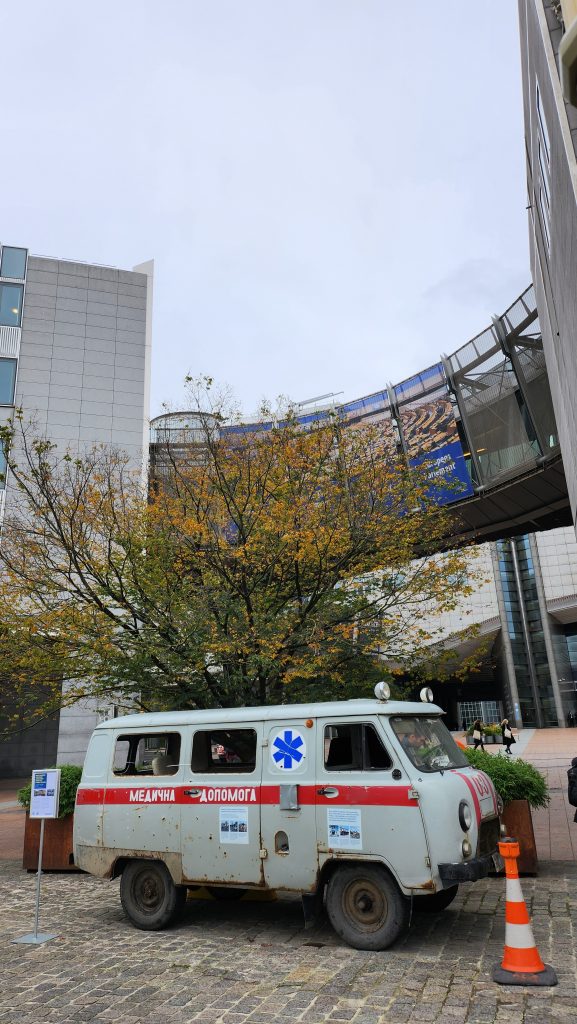 On 12 March 2022, Russian troops bombed civilian objects in Derhachi and destroyed the local hospital. The ambulance driver was about to leave for the next evacuation when the vehicle was pierced with fragments of a cluster munition. He was seriously injured but fortunately survived. Munition fragments can be seen all over the vehicle. Because of the targeted destruction of the hospital, a lot of civilians were suddenly cut off from emergency rescue and medical care in and around Derhachi.
This old ambulance, which we named "Periwinkle" as a sign of invariability and will to live, is a memorial to Russian war crimes in Ukraine.
Promote Ukraine Team