On Tuesday, 11 April, a video of the murder, probably of a Ukrainian soldier by a Russian soldier, began to spread on Russian and Ukrainian Telegram channels. The extremely brutal footage shows the beheading of alive POW.
Some sources note that Vladislav Pozdniakov, the leader of the Russian extremist organization "Male State", was one of the first to publish the video on his closed Telegram channel, after which it was shared by other Russian channels.
President of Ukraine Volodymyr Zelensky commented on the publication of the video, saying that every world leader must react to this cruelty.
"There is something that no one in the world can ignore: how easily these beasts kill. The world must see this video of the execution of a Ukrainian captive. This is a video of Russia as it is. What kind of creatures they are. There are no people for them. A son, a brother, a husband, someone's child," the Head of State stressed.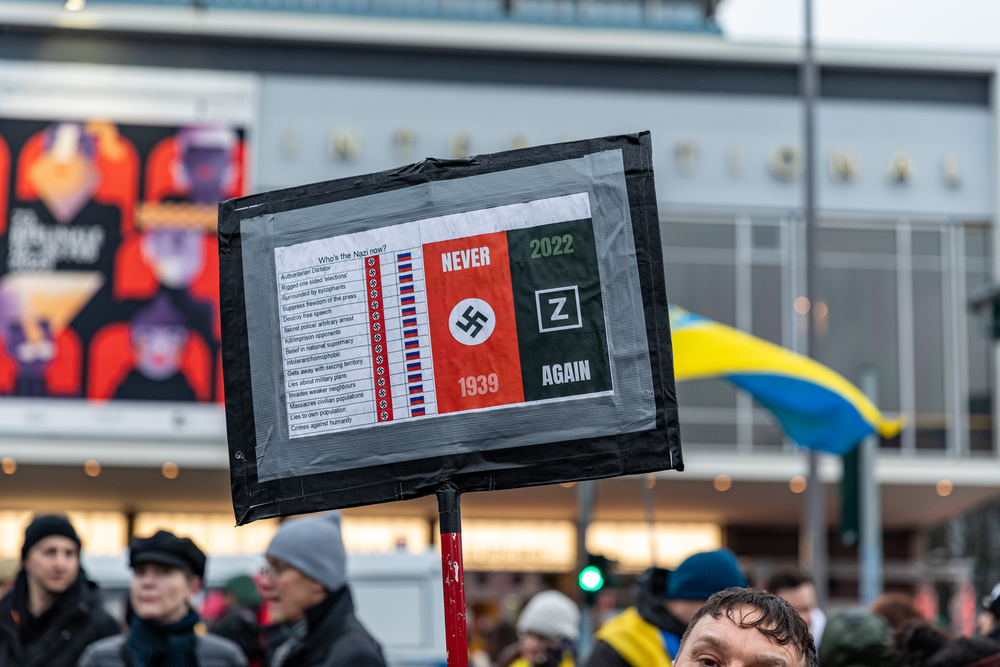 In his opinion, this video shows "a habit of destroying life" which Russia tries to make the new norm.
"This is not an accident. This is not an episode. This was the case earlier. This was the case in Bucha. Thousands of times. Everyone must react. Every leader. Don't expect it to be forgotten, that time will pass… No one will understand if the leaders don't react. Action is required now! And we in Ukraine must focus on the frontline as much as possible. Help as much as possible," Zelensky underscored.
He stressed that Ukraine will not forget the crimes committed by the Russians and will not forget them, and that "there will be legal responsibility for everything."
Minister of Foreign Affairs of Ukraine Dmytro Kuleba said that Russia is a terrorist state that must be kicked out of the UN.
"A horrific video of Russian troops decapitating a Ukrainian prisoner of war is circulating online. It's absurd that Russia, which is worse than ISIS, is presiding over the UNSC. Russian terrorists must be kicked out of Ukraine and the UN and be held accountable for their crimes," the minister posted on Twitter.
Ombudsman of Ukraine Dmytro Lubinets sent letters to the UN High Commissioner for Human Rights, the UN Human Rights Monitoring Mission in Ukraine, the UN Secretary-General, and the International Committee of the Red Cross, demanding that the Russians be held accountable for war crimes in Ukraine.
"I demand that the issue of indecent behaviour towards a prisoner of war be separately considered at the UN Human Rights Committee," Lubinets said.
He noted that he also sent a video showing the alleged execution of a Ukrainian serviceman to all fellow ombudsmen around the world with a request that they continue to lobby for support for Ukraine in their countries and also for the parliaments of their countries to recognise Russia as a terrorist state and Russian aggression as the genocide of the Ukrainian people.
The Security Service of Ukraine (SBU) informed that it launched an investigation into this war crime under the article "violation of the laws and customs of war."
"We will find these inhumans. If necessary, we will get them everywhere, wherever they are: from underground or from the other world. But they will definitely be punished for what they did," said SBU chief Vasyl Maliuk.
Meanwhile, CNN reports that another video of a beheading, which appears to have been filmed recently, was released last week on a "pro-Russian social network". It was probably done by Russian mercenaries from the private military company Wagner. The video shows the decapitated corpses of two people, probably Ukrainian soldiers, lying on the ground next to a destroyed combat vehicle. It appears that the dead soldiers also had their hands cut off.
Bohdan Marusyak