Ukrainian Veteran-Amputee Yurii Kozlovskyi Races in Brussels to Support Fellow Servicemen with Amputations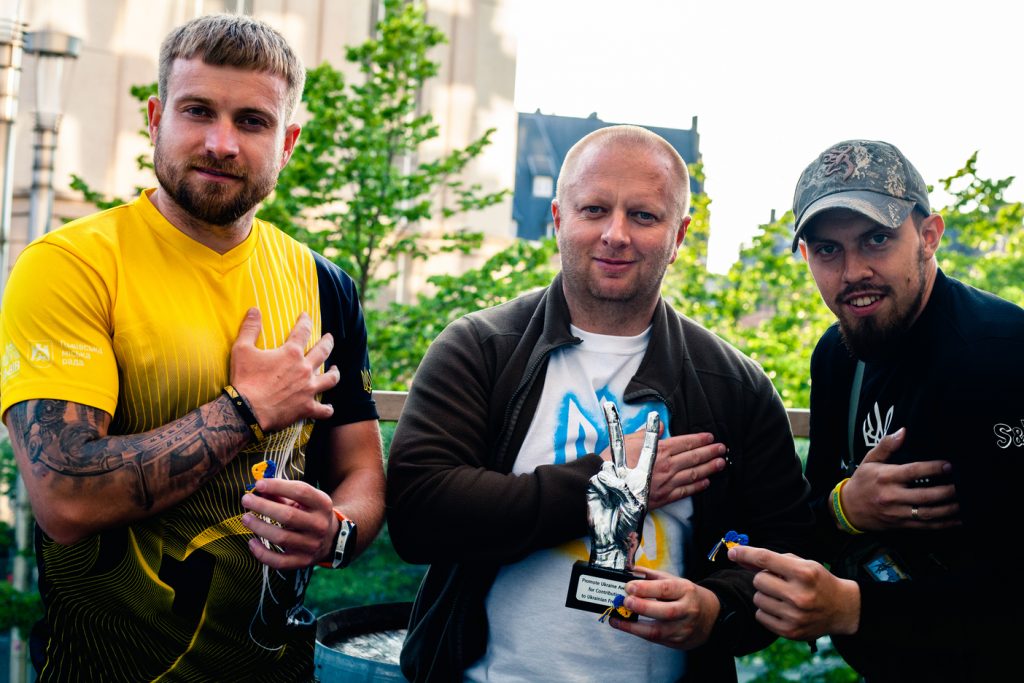 The atmosphere in Brussels is charged with the spirit of competition, accompanied by lively music and the sun casting its warm glow on the triumphant faces of approximately 40,000 runners and walkers who have just accomplished the grueling 20 km of Brussels Race. Among this year's runners is Yurii Kozlovskyi, 40 years old,  a Ukrainian veteran amputee, who crosses the finish line hoisting the Ukrainian flag aloft.
Defying Adversity
"I am extremely happy that I managed to complete this distance! This is my longest distance, my best result," reflects Yurii. "The weather was a bit of a letdown," he says, "I wanted it to be colder." Despite the obstacles presented by the weather and his prosthetic leg, Yurii finished the race in 3 hours, 11 minutes, and 4 seconds.
Yurii's achievement goes beyond crossing the finish line. In March 2016, Yurii lost his leg during his service against Russian aggression in eastern Ukraine. However, he refused to let adversity hinder his pursuit of athletic excellence. Alongside participating in renowned events like the Invictus Games, the Games of Heroes, and the Marine Corps Marathon (10 km in 2019), he even completed the Murph Challenge — a demanding test consisting of a 1600-meter run, 300 sit-ups, 100 pull-ups, and 200 push-ups — all while wearing a bulletproof vest.
The Unyielding Support of Family
Throughout Yurii's arduous journey, his family has been an unwavering source of support. Although they could not be physically present at the race, Yurii's gratitude and love for them know no bounds. His wife, an active servicewoman, has been his pillar of strength since the moment of his injury. "I don't even know what percentage of the merit is in the fact that I am as active as I am. It is her merit. She said, 'Yura, everything will work out,' and indeed it has," he explains.
A Belgian Friend and Supporter
"Here we go! We made it!" cheers Tillman, jumping on Yurii's shoulders and waving the flag triumphantly. Tillman, Yurii's friend and dedicated supporter, acted as his running guide during the race. Tillman's passionate support for Ukraine brought them together on this momentous occasion. As they both crossed the finish line, Tillman shared, "It's really important to spread the word to people of Brussels, who support this very much… I hope that quite soon we can run together in a peaceful Ukraine with peaceful people and get rid of the oppressor. Slava Ukraini!"
Join the Cause to Support Veterans-Amputees
Yurii's participation in the Brussels 20 km Race served a greater purpose — raising funds to support the Citizen Charity Foundation. This organisation is dedicated to providing comprehensive assistance to servicemen with amputations. Based in Kharkiv, eastern Ukraine, the foundation focuses on equipping veteran amputees with modern prosthetics and holistic rehabilitation programs, recognising that the journey to recovery encompasses both physical and emotional well-being.
The NGO Promote Ukraine has been actively gathering funds to support Ukrainian veterans. You can contribute to Yurii's cause by supporting the Citizen Charity Foundation. The contributions will directly support the foundation's mission of providing comprehensive assistance to servicemen with amputations. Together, we can foster hope, resilience, and a brighter future for those who, like Yurii, have selflessly served their nation.
Author: Kateryna Kravchenko
Photo credit: Anastasia Varvarina