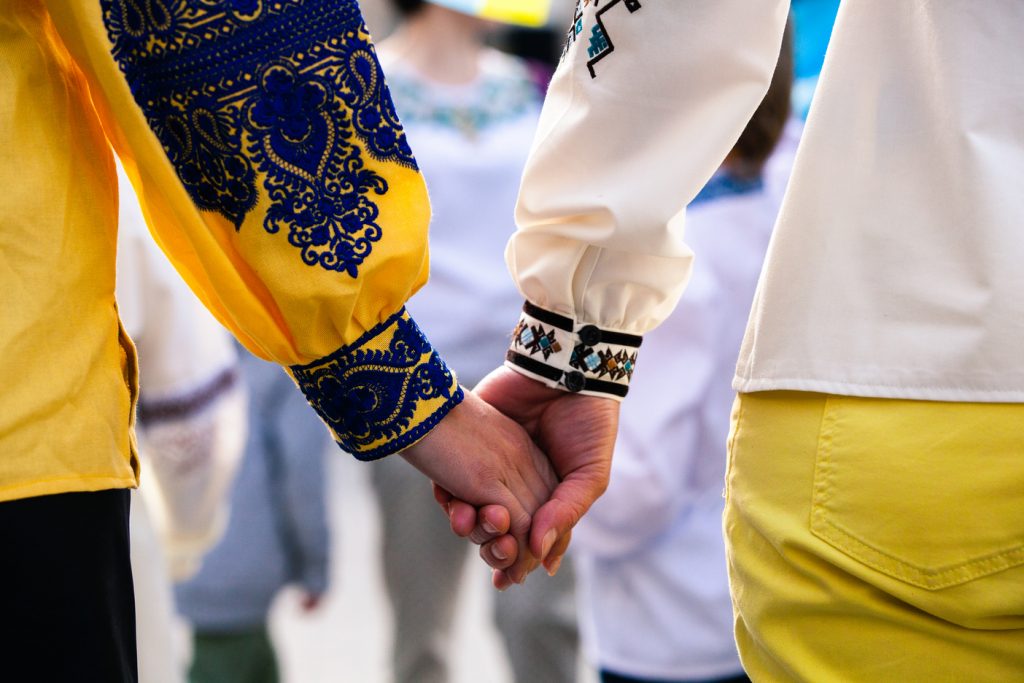 Vyshyvanka Day, traditionally observed on the third Thursday of May, holds a cherished place in the hearts of Ukrainians. This beloved holiday has transcended the borders of Ukraine and gained global recognition, being celebrated across the world. Interestingly, for those residing outside Ukraine, Vyshyvanka Day holds a profound significance, as it fosters a sense of connection with their homeland, allowing them to feel united with their roots even when separated by thousands of kilometers.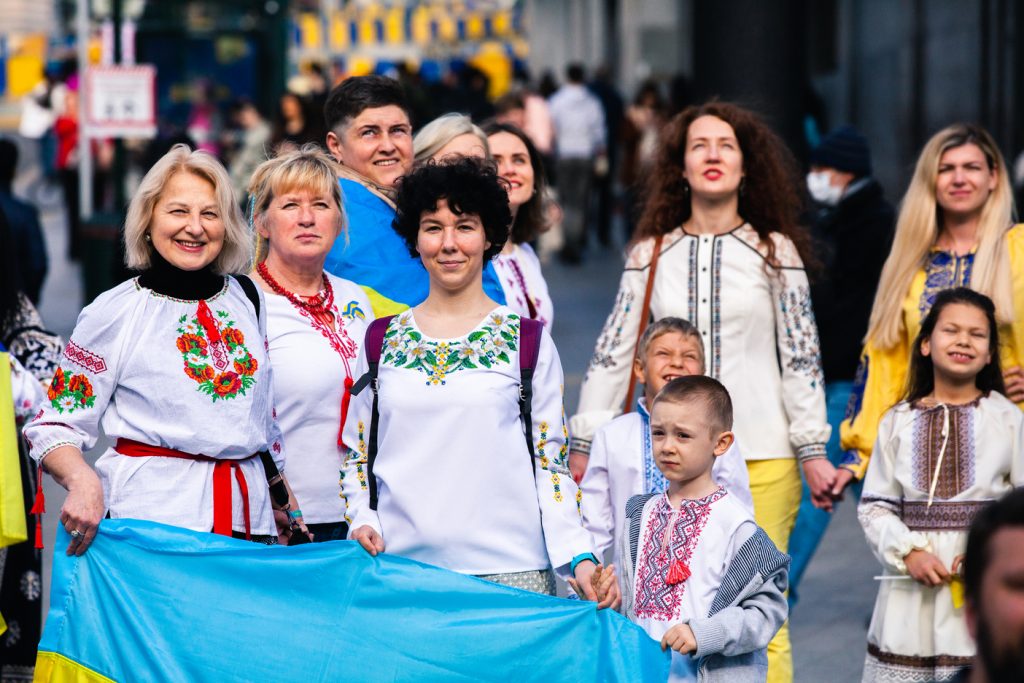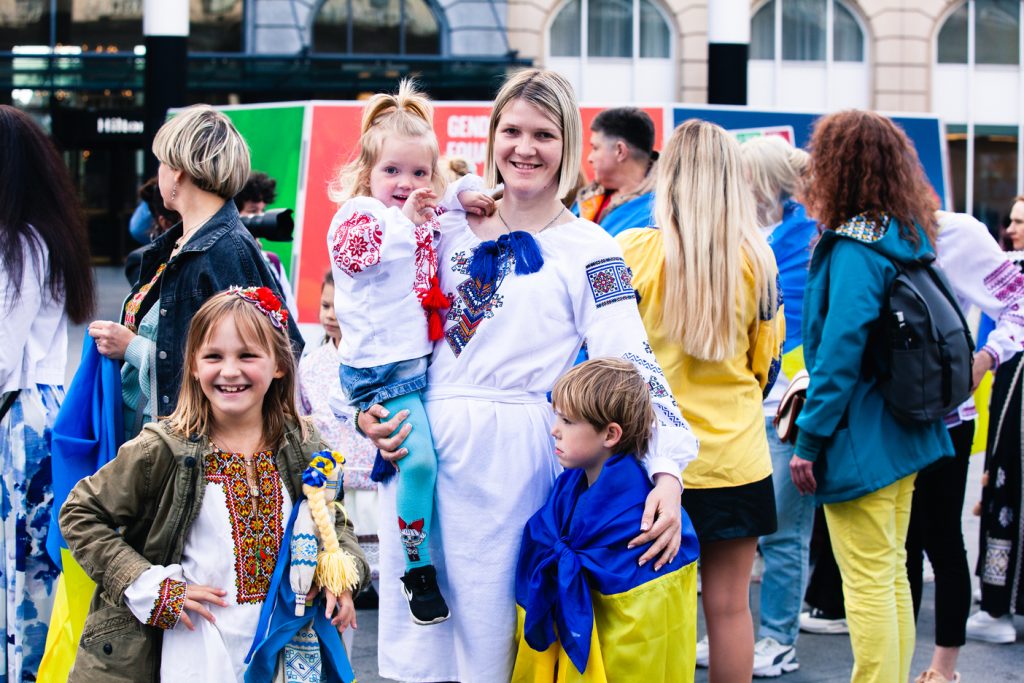 We asked Promote Ukraine volunteers about why and when they wear their vyshyvanka, as well as how Vyshyvanka Day is celebrated in Belgium.
Lyuba Karpachova, Refugee Support Lead and Secretary General BoD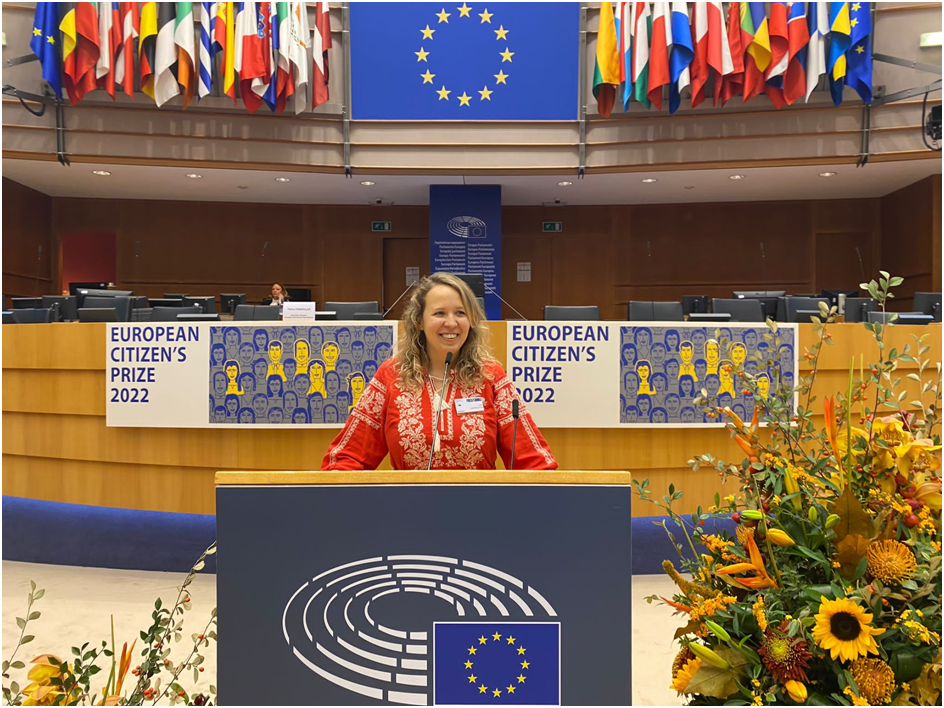 It doesn't matter what I do or where I am on that day, whether it's an important meeting in the office or a walk in nature, I always wear my Vyshyvanka on that day. I moved to Belgium many years ago, when this holiday wasn't celebrated widely even in Ukraine yet. Since I have learnt about the holiday, I am always happily trying to take part in the International flash mob of wearing Vyshyvanka on the third Thursday of May.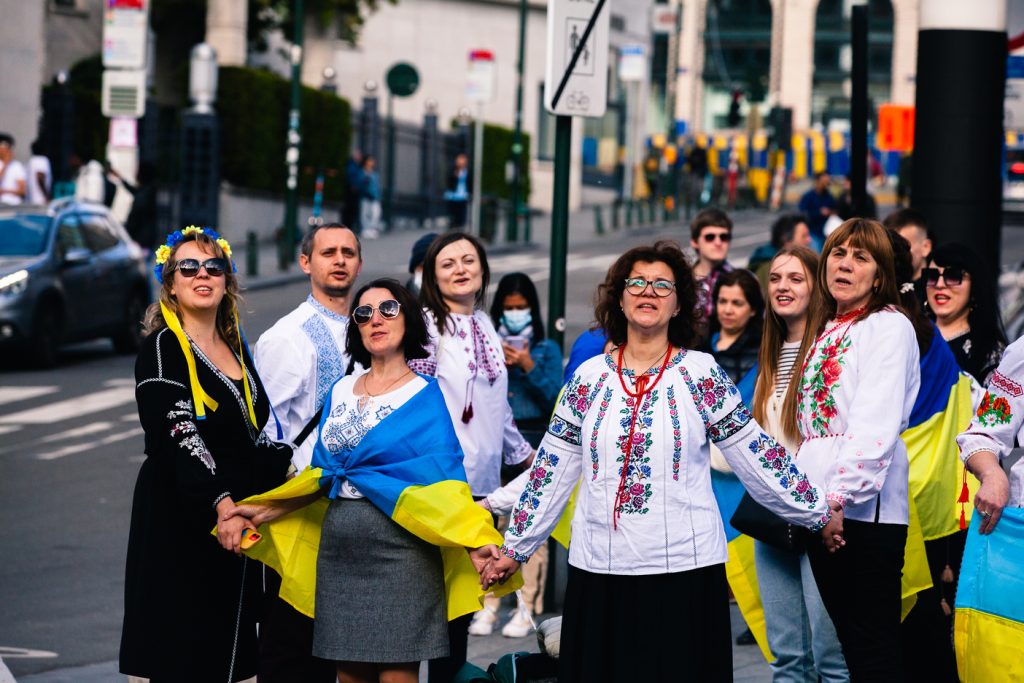 I have my favorite red Vyshyvanka dress. A long time ago my mom bought it for me. I have lived abroad for more than 15 years now, but Ukraine always is and always will be in my heart. And every time I feel homesick, I wear it. Every time I have an important international meeting and I want people to know where I am from, I proudly wear it. Every year on the third Thursday of May I wear it and feel that Ukraine is near and that Ukrainians are forever united by our rich culture and freedom spirit.
I wore this red Vyshyvanka dress also to the celebration of the 30th Independence of Ukraine in Kyiv as well as to the European Citizen Award Ceremony organized by the European Parliament when our whole Promote Ukraine team received this prestigious award. Both were very meaningful events to me.
Oksana Terletska, Fundraising lead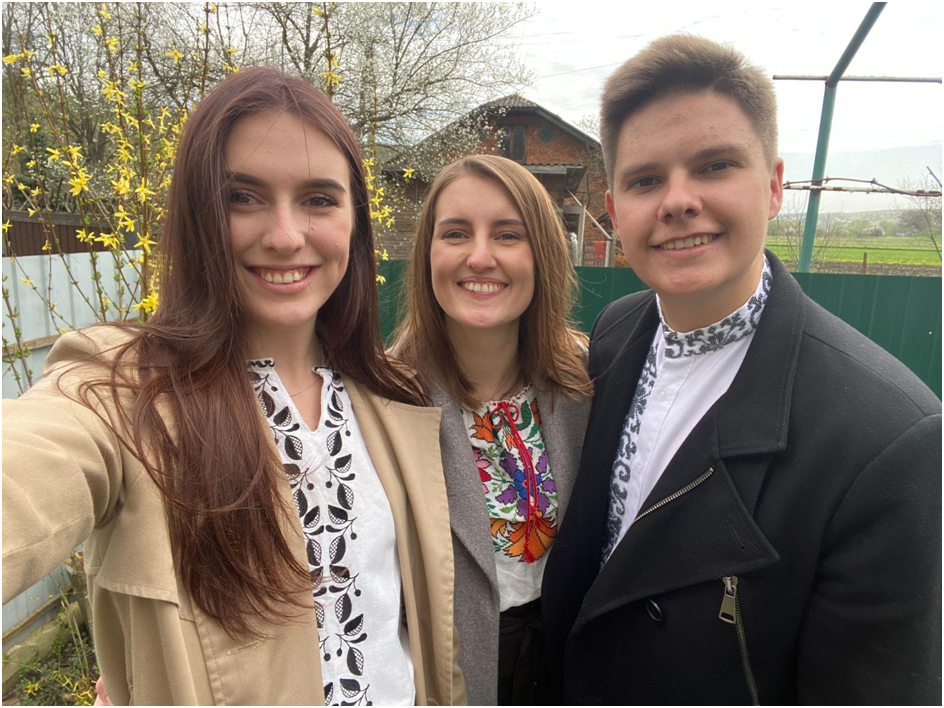 For me, vyshyvanka is an important element of Ukrainian heritage, a beautiful garment, and a valuable gift. Most of my vyshyvankas were embroidered by my grandmother, and there is one from my great-grandmother. I love the symbolism of ornaments and handwork that always make clothes special. But I also have more modern interpretations of embroidered shirts and dresses, which are probably not traditional vyshyvanka but definitely contribute to the popularisation of Ukraine.
Vyshyvanka Day is a good tradition of unification in culture, beauty and an opportunity to massively celebrate an important element of Ukrainian identity. On this day, I usually wear a vyshyvanka, exchange photos with my family if I am not at home, or we go for a walk in vyshyvankas, if I manage to be at home with my relatives on this day. By the way, we wear embroidered clothes not only on the third Thursday of May: in my family, embroidered clothes are considered festive clothes, which we happily wear on Christmas, Easter, and other occasions.
Kateryna Kravchenko, volunteer, Communications Team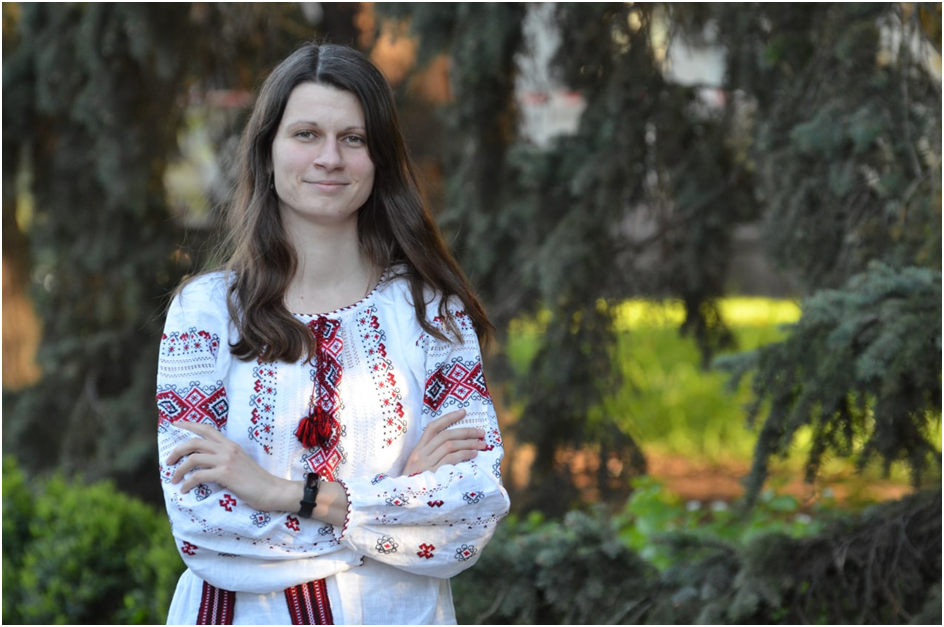 As for me, vyshyvanka is an intertwining of Ukrainian DNA, since it is deeply rooted in Ukrainian culture. It is not only a traditional garment but also a symbol of our country's identity and heritage. Embroidered patterns and motifs reflect the history, diversity of our country's regions, beliefs, and values of the Ukrainian people.
In Ukraine, on Vyshyvanka Day, our whole family wore embroidered shirts. Since I will celebrate Vyshyvanka Day for the first time in Belgium, I will also wear vyshyvanka.
Antonio Albaladejo-Román, volunteer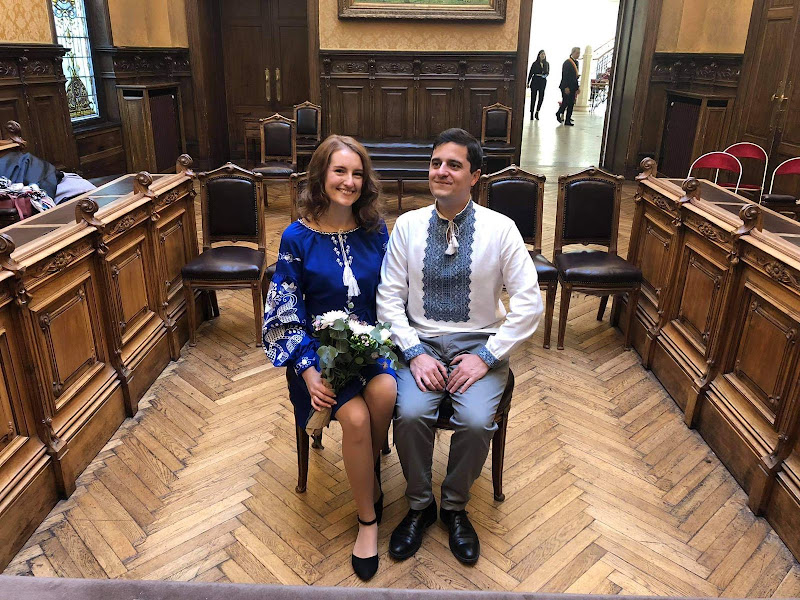 For me, Vyshyvanka Day is an important holiday because it helps draw attention to Ukrainian culture. I also have a vyshyvanka made for me by my wife's grandma. It's a real piece of art and I am very proud of it.
We usually wear vyshyvankas on special days like Christmas or our civil wedding (its the occasion in the picture). And this time we will wear embroidered shirts to church, because in 2023, the Day of Vyshyvanka falls on the Feast of the Ascension.
A collection of stories gathered by Kseniia Breslavska