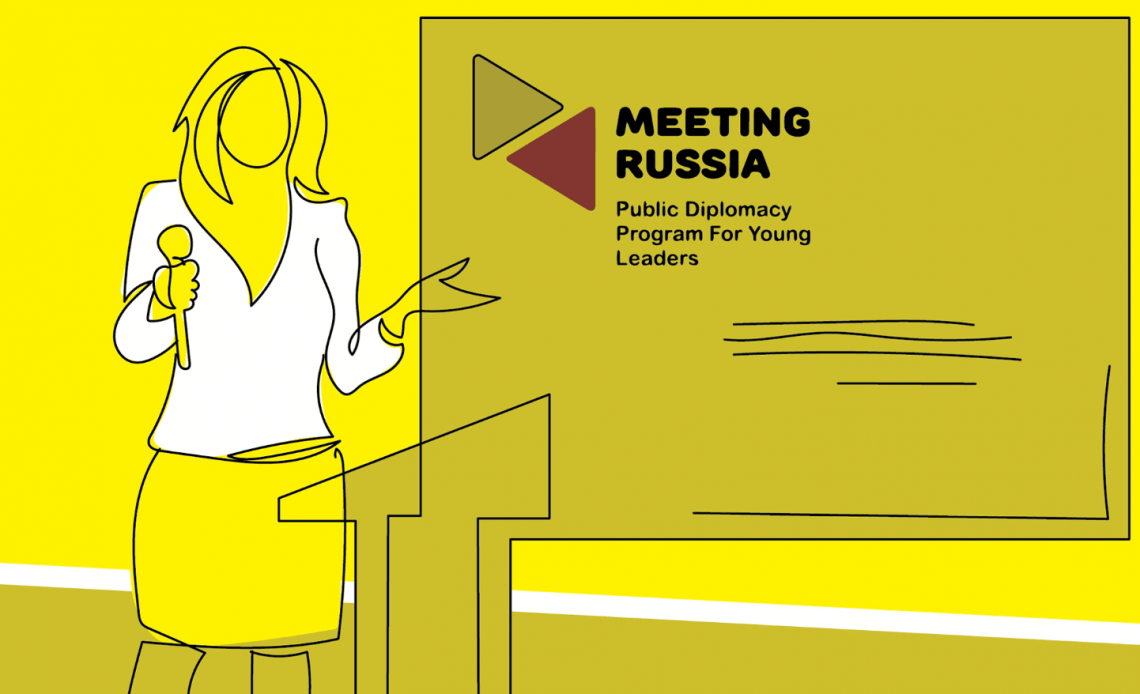 This is not the first year that PICREADI has been involved in "creative diplomacy." It brings young European professionals, graduate students and scholars together for Meeting Russia events in Europe and Russia. Promising foreign experts in the field of international relations, business, science, journalism get acquainted with Russia's foreign and domestic policy and socio-economic order. This "allows guests to get in touch with leading Russian experts and government officials."
Several former participants in the Meeting Russia programme are now achieving positions of importance and influence. Natalia Burlinova, a Russian national, is the director and founder of PICREADI. It is interesting that the Gorchakov Fund and the Russian Presidential Administration fund the activities of Burlinova, but are they the only ones?
It seems that PICREADI has long held the EU "at gunpoint." After all, it has established presence in Brussels. Belgian resident Lukyana Suvorova works for PICREADI Brussels and is also the head of youth programmes for Russia House Brussels that operates under the "protectorate" of the Russian embassy.
In 2017, Suvorova gave an ambiguous interview for the website on the topic of youth education as a member of the National Council for Youth and Children's Associations of Russia and an international youth cooperation expert. She said, "Modern Russian youth policy is actually very much linked to the policy that existed in the Soviet period. And the tradition of youth activity that was developed in the Soviet Union was actually very strong. Many of our experts emphasise this. And many of them were members of Komsomol [political youth organisation in the Soviet Union]."
In 2018, PICREADI hosted an event at the European Parliament entitled "EU Meets Russia. New Possible Relations?" where Burlinova was a speaker, along with Russian professor Yevgeniya Makhmutova, Russian reporter Andrey Afanasiyev, and three members of the European Parliament: Andrejs Mamikins, Stefano Maullu, and Marco Zanni.
PICREADI's website detailed a 2018 exchange between EP members and a Russian delegation that also included a representative of the website Tsargrad, owned by US-sanctioned oligarch, Konstantin Malofeyev, with Suvorova serving as moderator. Tsargrad later promoted the event.
What is behind PICREADI and who is Natalia Burlinova? 
According to the information published on its website, it appears to be a scholarly NGO and think-tank organisation led by a political scientist. However, according to her resume, she worked for the Russian government-sponsored Gorchakov Fund and Russian state press for a long time. PICREADI claims that it is not tied to the Russian government and does not acknowledge that it receives funding and other support from Russian special services and the Presidential Administration, although it is not the first year that Burlinova has been airing Russian narratives in various media and at numerous international events. In 2012, for example, she gave an interview on NATO-Russia relations at the Munich Security Conference.
"I can say that NATO–Russia relations are very complicated. Although we have already passed the spirit of the Cold War, we still have many disagreements. I would say we have a different perception of our world and of regional situations," Burlinova told reporters.
Burlinova also represented PICREADI at a Munich Young Leaders Annual Meeting in Madrid in 2018. And on 21 November 2020, she spoke at the panel discussions of the CPH Conference. The event organisers noted that the CPH Conference on Western-Russian Relations was aimed at exposing fundamental disagreements and forwarding mutual understanding between the West and Russia by discussing pressing issues of Western-Russian relations.
Last April, Burlinova spoke at a Russia Brussels House event about public diplomacy and COVID-19. She was listed as head of PICREADI and a member of the Expert Advisory Council for Rossotrudnichestvo – The Russian Federal Agency for Commonwealth of Independent States, Compatriots, living abroad, and International Humanitarian Cooperation, the agency nominally responsible for cultural exchanges and foreign aid, but which in practice often supports Russia influence activity.
In May 2021, a course was launched at the Centre for Support and Development of Public Initiatives "Creative Diplomacy," within which Burlinova taught the basics of the Public Diplomacy Training guidance manual. She "shared with the audience her analysis of the key points of the Russian system of public diplomacy, its main topics and areas, debunking the myths of Western expert reports about the omnipotence of Russia's soft power."
Who stands behind PICREADI?
PICREADI's activities give rise to many questions. Is there anyone who influences, oversees, or uses the organisation's activity, raising the profile of the alumni of the organisation by encouraging cooperation and meetings with senior officials from the Russian Ministry of Defence and Ministry of Foreign Affairs, Duma, and Presidential Administration? Who funded Burlinova's trip to the West and the Meeting Russia conference aimed at Western audiences?
After all, for some years now, PICREADI has been bringing Europeans – French, Germans, Austrians, Serbian, Italian, Danish and others – to Russia and other countries for flashy public diplomacy events that subtly glorify Russia. Participants in "Russian performances" are carefully selected: Belgian scholar, Bruno Hellendorff, a Joint Research Fellow at Egmont, participated in 2019.
Meeting Russia is coming soon
At the end of July, the Meeting Russia conference will take place in Russia. It will bring prominent alumnae from multiple European countries. The conference website states: "Meeting Russia is a unique, independently-run public diplomacy programme for young leaders. The programme brings together young representatives from academia, government institutions, parliaments, think-tanks, media and the private sector from the United States and European countries, as well as from Russia."
It should be noted that the Creative Diplomacy initiative, where Burlinova is a speaker, covers accommodation, meals and transportation in Moscow. The organiser can also reimburse part of the travel cost.
It seems that Meeting Russia participants will not only get acquainted with the programme of public diplomacy for young politicians and experts from around the world, but also hear many Russian "creative diplomacy" narratives about the EU to disseminate them in influential circles of their countries.
Marta Barandiy, editor-in-chief of the Brussels Ukraїna Review
Follow us on Twitter