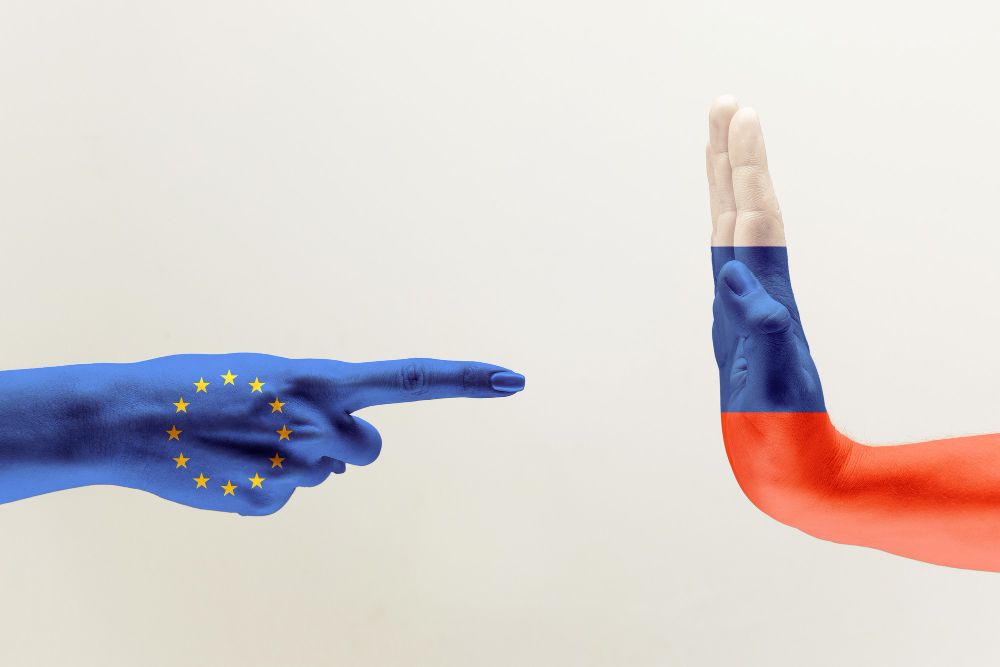 The European Union found itself in the cross hairs of Russian sanctions following the United States. The Ministry of Foreign Affairs of the Russian Federation explained the imposed restrictions by responding to the actions of the European Union which had previously imposed personal sanctions for persecuting Russian opposition leader Alexei Navalny.
A total of eight people were put on a stop list, including European Parliament President David Maria Sassoli and Head of Berlin's Prosecutor's Office Jorg Raupach. An interesting fact is that Sassoli did not draft EU sanctions against Russia and has not paid a visit to Moscow during his tenure as the President of the European Parliament. As Sassoli put it, the ban simply did not apply to him. "This is not a personal matter," he told the Italian daily La Stampa. "One beats the President to hit the Parliament."
Russian restrictive measures were also imposed on:
Věra Jourová, Vice President of the European Commission for Values and Transparency;
Asa Scott, Head of the laboratory of Chemical, Biological, Radiation and Nuclear Security at Sweden's Total Defence Research Institute;
Jacques Maire, member of France's delegation to the Parliamentary Assembly of the Council of Europe;
Ivars Abolins, Chairman of Latvia's National Electronic Mass Media Council;
Maris Baltins, Director of Latvia's State Language Centre;
Ilmar Tomusk, Head of Estonia's Language Department.
The Foreign Ministry notes that they will be banned from entering Russia. Moreover, the imposition of sanctions against these individuals was a response to the actions of the EU, which imposed restrictive measures on six Russians on 2 March and 22 March this year.
"Such actions of the European Union leave no doubt that their real goal is to restrain the development of our country at any cost. To impose its one-sided concept of a 'rule-based world order' that undermines international law. To openly defy the independence of Russia's foreign and domestic policy," the Russian Foreign Ministry considers.
Russians believe that the European Union is taking such steps openly and deliberately with the knowledge and encouragement of the United States which "does not hide its interest in re-transforming Europe into an arena of sharp geopolitical confrontation."
As a reminder, on 16 April 2021, Russia banned eight U.S. former and incumbent high-ranking officials from entering its territory. These restrictions were imposed in response to U.S. sanctions against Russian officials on 2 March this year.
In particular, U.S. Attorney General Merrick Garland, Homeland Security Secretary Alejandro Mayorkas, Director of the Federal Bureau of Investigation Christopher Wray, Director of National Intelligence Avril Haines, U.S. Presidential Policy Adviser Susan Rice, and Director of the Federal Bureau of Prisons Michael Carvajal were put on a Russian sanctions list.
In addition, two ex-senior officials were banned from entering Russia: former Donald Trump's national security adviser John Bolton and former director of the Central Intelligence Agency Robert Woolsey.
EU vs. Russia
After Russia had made demarche, Europe did not hesitate to respond. Thus, the Swedish Foreign Ministry summoned a Russian ambassador. "We regret that Russia decided to continue to worsen relations with the EU. We take the deterioration of democracy, human rights, and the rule of law in Russia very seriously," the Ministry of Foreign Affairs of Sweden stated.
The Ministry of Foreign Affairs of Latvia assessed the Russian sanctions as follows: "The decision of the Russian Federation of 30 April is an attempt to put pressure on Latvia through its national, language and media policies," reads the diplomats' statement.
Russia's decision to impose restrictive measures on top European Union officials testifies to the fact that Russia continues to follow the path of confrontation. This is stated in the Declaration by the High Representative for Foreign Affairs and Security Policy Josep Borrell.
"This decision, which directly targets the European Union and its Member States, is unacceptable, devoid of any legal justification and baseless. It serves to underline that the Russian Federation has so far chosen the path of confrontation instead of seeking to reverse the negative trajectory of EU-Russia relations," Borrell said.
Navalny case
On the diplomatic front, Russians were outraged not only by EU sanctions. After all, in recent years, MEPs have passed countless resolutions condemning Russia's illegal annexation of Crimea in 2014. They also refused to recognise the illegal victory of Belarusian leader Alexander Lukashenka, a close ally of Putin, in the 2020 re-election.
In turn, in September 2020, MEPs adopted the first of three resolutions condemning Moscow for its ill-treatment of the Russian opposition activist. The resolution called on Russia to "end the persecution, intimidation, violence, and repression of its political opponents."
In January last year, 581 MEPs passed a resolution calling on EU Member States to "take an active stance" on Navalny's arrest and "significantly strengthen the EU's restrictive measures vis-à-vis Russia."
In their speeches, some members of the European Parliament demanded that Russian oligarchs linked to the Putin regime, as well as members of his inner circle, must be fined and that the construction of the Nord Stream 2 pipeline must be stopped.
In March this year, the EU imposed sanctions on several senior Russian officials. Last month, 79 European politicians from 17 EU countries signed a joint statement demanding that the Russian authorities must grant Navalny immediate access to independent doctors and release the politician from prison.
Recently, 569 MEPs adopted a text calling for "the immediate and unconditional release of Alexei Navalny," whose sentencing is "politically motivated" and "runs counter to Russia's international human rights obligations."
By the way, PACE authorised French delegation representative Maire to prepare a report on the case of Russian opposition politician. The report is expected to be presented to the Assembly in June. The French parliamentarian planned to visit Russia while preparing the document. However, it was not meant to be. Maire is already under Russian sanctions. Who will be next?
Natalia Tolub
Follow us on Twitter