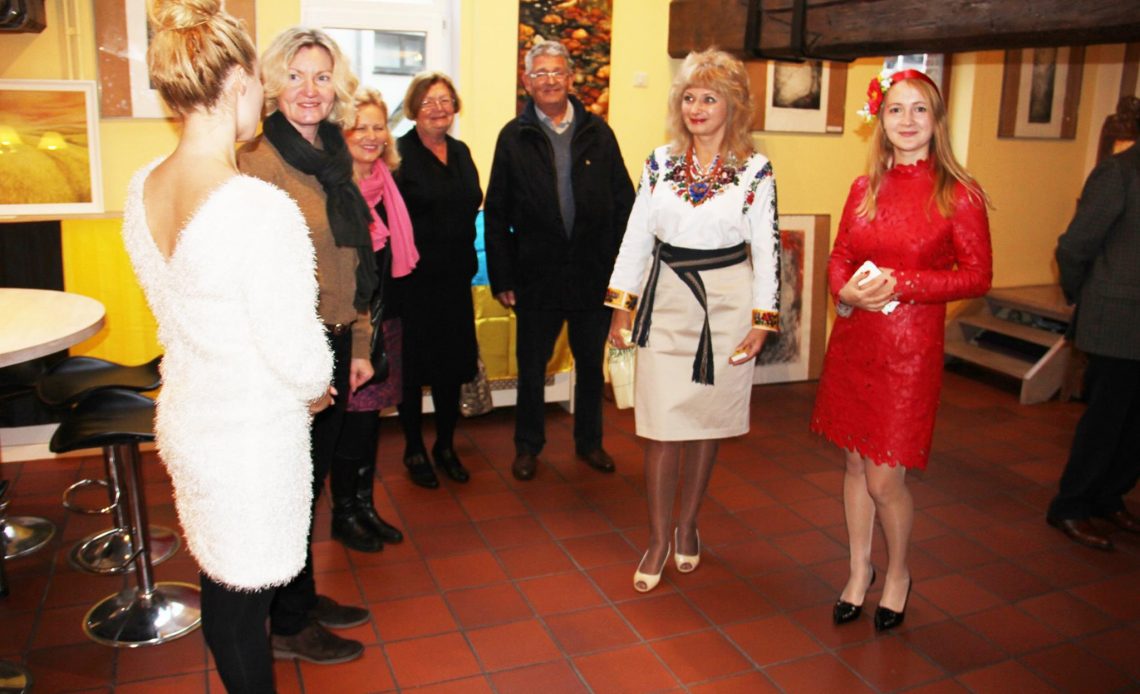 This painter, who lives in the Belgian town of Bruges, has a far-reaching goal: to tell Europeans about the traditions of Ukraine, its beauty and richness of nature. For 20 years of her life in Belgium, Svitlana Lebiga has been trying to deliver to Europeans an image of Ukraine that sometimes differs from the interpretation by the Western press. The artist is concerned that the ordinary Western citizens get mostly negative information about the Ukrainian state: about the war in Donbas, corruption, etc. Mrs.Lebiga is the founder and president of the Cultural Centre of Ukraine in Belgium; she organises Ukrainian Art Weeks and other events to help people learn about the history, art and customs of Ukraine – a country that the vast majority of Europeans overlook.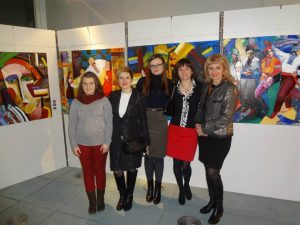 As a little girl, Svitlana adored drawing. In addition to her natural gift, the family had their influence. Her mother Lyudmyla was an artist of applied and decorative arts and a member of the National Union of Artists of Ukraine. Two children have followed in her footsteps, both daughter and son Svyatoslav. Both will go on to compete and join the Republican Art School, from which they will successfully graduate. At a young age, the studio lessons of Viktor Zaretsky, a well-known artist and public figure, gave a lot for the development of Svitlana's artistic skills.
"When I think back to my childhood, I remember not some toys or friends, but exhibitions," smiles Mrs. Lebiga. "I am not a supporter of the Soviet times at all, but back then I witnessed very beautiful, bright exhibitions in huge halls in the Zhovtnevyj (October) Palace, the House of Artists. I remember it well."
The "Ukrainianness" – which now runs like a golden thread through Svitlana's artworks – was inherited rather from her father. Vsevolod Lebiga was a scientist, one of the founders of the People's Movement of Ukraine in Kyiv. Even before Perestroika, he introduced his daughter to books that told the truth about the Holodomor and other terrible pages in Ukrainian history. She would get more into the national spirit later, during her studies at All-Ukrainian Art Institute, when the students did their artistic practice in the villages of Ukraine. There they were helped by ordinary people to learn the folklore, traditions and history of the country. "You stand with an easel painting a landscape and some old woman was walking by, carrying something in her apron. She says: 'Child, spread a newspaper.' And the woman pours pears. And then she invites you to have lunch at her house," recalls the director of the Ukrainian Cultural Centre.
Both then, as a child and as a young girl, and now, Svitlana works hard: she considers the day lost without painting. The artist creates landscapes of the picturesque Ukraine and paintings, where embroidered towels, national costumes and other elements are made in a style that combines folk painting, Ukrainian avant-garde and realistic school. The painter emphasises and plays with colours, and this fills her works with joy and light, but sometimes also with sadness.
Why did the Ukrainian artist end up in Belgium? She did not even think about her move to this country, but oddly enough, it was her love for Ukraine that caused it. In the '90s, Svitlana focused on painting Ukrainian themes while listening to Ukrainian music. She made a lot of figurative paintings with folklore plots and folk traditions. Many people knew about her work because the artist cooperated with patriotic and women's organisations. And isn't that a miracle? One day, Svitlana received a call from the Foreign Ministry of Ukraine proposing that she have a personal exhibition in Belgium dedicated to the 10th anniversary of Ukrainian independence. And then,a real success came: on the one hand, professionally, because Belgians were delighted with her works; on the other hand, personally, because Guillaume Vanbeckevoort, director of the West Flanders Art Academy fell in love with both the paintings and the painter herself. A bit later he became Svitlana's husband.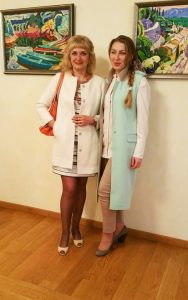 Happy ending? Is it enough to live in a rich country with your beloved man and to work, if at all, only for your own pleasure? Yes and no. Mrs. Lebiga decided to fill in the gap in knowledge about Ukraine among Belgians and other Europeans. During her first years in Belgium, she organised her own or small group exhibitions with Ukrainian themes. Then, she started teaching at the Koksijde Academy on the North Sea coast, where she, with other prominent artists, gives lessons during school holidays. Svitlana tries to see talent in students and gives them an academic base in drawing.
There is also a Ukrainian leitmotif here: the artist talks about her homeland and love for it. In this way, the course participants also begin to like Ukraine, which was not known to most of them before the class. A striking example of this: after the outbreak of the war in Donbas, Mrs. Lebiga's students collected money to buy materials for the art-rehabilitation of war victims in the Carpathians. There is more to come. The painter organises Ukrainian-themed events at the Cultural Centre for Ukraine in Belgium, which she founded.
These include workshops for artists and exhibitions in various Belgian cities and towns. Started in 2019, the Ukrainian Art Weeks have a special significance. They bring together artists from different regions of Ukraine who work in various genres. Among the participants were Olena Klochko from Bakhmut (Donetsk oblast), Olexandra Kyrylova from Kyiv, Olga Adam from Kharkiv, Yana Gudzan and Serhiy Savchenko from Lviv, and other masters. There were also works by two artists from Donetsk.
The first is Ihor Musin (now deceased), who was not a professional artist. He worked all his life in a mine, his parents having been repressed in the Soviet time. His father was shot, and his mother was in the camps. Mr. Musin started drawing graphics in later years, being in Bruges, where he was taken by his daughter for medical treatment. The second artist is Serhiy Zakharov, who was imprisoned in 2014 for his graffiti and installations that mocked separatists. Ukrainian artists from other countries – the Netherlands, Slovenia, even the United States – also come to the art weeks founded by Svitlana Lebiga.
She says that the geographical factor – the weeks and other exhibitions take place mainly in Bruges – is extremely important. After all, this town (which is called the "Venice of the North" for its canals) is very touristic; people from all over the world are attracted by the preserved medieval architecture. This is why many visitors come to Ukrainian events in the very centre of Bruges – both those who have planned their trip and those who happened to be there during a walk in the town. There is another bright event:  the Vyshyvanka Days (vyshyvanka is an embroidered shirt).  When Svitlana and other members of the Ukrainian diaspora walk around Bruges in national clothes, everybody looks at the charming women in beautiful vyshyvankas. Tourists react vividly and even take photos.
"I really love Ukraine. I love Ukrainian people. It's true, it's not just words or a quote from books, it's life," says Mrs. Lebiga. This is the feeling the artist carries through her life, and her paintings are saturated with this love. And people feel it.
Natalia Richardson
Follow us on Twitter