Get acquainted with various trends in contemporary Ukrainian painting and sculpture, as well as look at ancient Ukrainian clothes. This is the opportunity offered by an art event in the central square of the Belgian town of Bruges. It is the third time that the Ukrainian-born artist and founder of Cultural Centre of Ukraine in Belgium, Svitlana Lebiga, has organised the Week of Ukrainian Art, which takes place with the support of the Ukrainian embassy in Brussels.
The exhibition features the work of more than 70 Ukrainian artists from different regions of Ukraine and from around the world. Ms. Lebiga says that this is how she wants to show Europeans contemporary culture and art in Ukraine. Brilliance, talent and craftsmanship are the main features inherent in all the exhibits.
Olena Klochko from Bakhmut in the Donetsk region, 20 kilometres from the line of contact, created the project "Red Thin Line" together with 10 other artists from eastern Ukraine. "The works presented are not directly related to the war, but to the process of local people rethinking how to transform themselves through all this conflict, disaster and really become part of the world and Europe and not that separate system, with a way of thinking that is understandable only to themselves, says Olena Klochko in a commentary for Promote Ukraine. For example, for world cinema we have very high criteria. And, for our movies, we have our own criteria, which only we understand. There is a double system of coordinates. It has stressed me out since childhood. And here I see that this is how it goes on, that blood is shed, there is horror in general, there are so many victims, but still the double system remains."
Besides Ms. Klochko, the "Red Thin Line" project has such renowned artists as Sergiy Zakharov; Dmytro Kolomoitsev; Petro Antyp; Denys Adushkin; Alan Meyer; sculptors Mykola Biryuchinsky, Roman Minin and Anton Logov; and photographer Sasha Dzhantimirov. Sergiy Zakharov brought to Bruges, among other things, his graphic novel "The Hole." The 2014 artist created an art project that flooded Donetsk with caricatures of representatives of the occupying authorities. For this, Mr. Zakharov was held in isolation in basements for two months, and the artist recounted his imprisonment in drawings included in the book. Another tragedy was experienced by the sculptor Biryuchinsky, who was kicked out of his home in Horlivka, in the Donetsk region, which is mainly under control of pro-Russian forces. Homesickness culminated in the sculpture "Odyssey" where the artist identifies himself with this traveler who arrives in Ithaca and regains his kingdom.
The owner of the Art Master Gallery in Prague, Julia Shumeiko, a former Kyiv resident, brought works by well-known Ukrainian artists to the art events in Bruges, including Eduard Bielskiy (now living in Slovenia), Roman Zuzuk (living in Canada), the Lviv couple Nina and Sergiy Reznichenko, Mykhaylo Mykora (living in Prague), and Sasha Repka from the Crimea. There is a separate story about one of them: "Mykhaylo Mykora works in encaustic technique. This is a technique that absolutely all students study at art schools, but very few actually use it in their work," Ms. Shumeiko said. Why? Because the encaustic technique involves taking very, very, hot beeswax and adding a certain pigment to it so that there is colour. Then, the artist has no chance to make a mistake because he has to draw very fast with this red-hot wax. There is no chance, as in painting, to rewrite or trim. This is a very, very high level of skill. Mykhaylo Mykora is the only artist I know who still works in this technique."
The Ukrainian Art Week also features an entire museum, the Korsaks' Museum of Ukrainian Modern Art from Lutsk, whose level is assessed as world-class by experts. Visitors to the exhibition in Bruges can see "Constellations," the exhibition area of the cultural and artistic project "Diffusion," which explores the fundamentals of contemporary Ukrainian art. Olena Naidko, curator of the project, says: "For this exhibition, we have chosen artists who represent the Ukrainian art in a very broad way, as there are seven artistic cells. There are works from Kharkiv, Dnipro, Lviv, Kyiv, Odesa… The concept is created in such a way that every viewer can see how art has developed in Ukraine, which creates a dialogue between different artists and generations. In other words, there are works by older and younger artists, as well as works by Ukrainian art masters. And it is all created to highlight the diversity of Ukrainian art, to emphasise how contemporary, underground and unique it is. Our museum removes the halo of orthodoxy, breaking stereotypes about the museum…"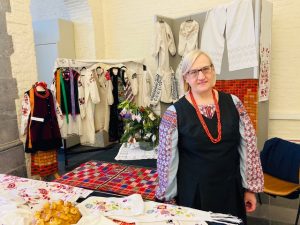 At the art event in the centre of Bruges, you can not only see contemporary Ukrainian art, but also take a peek into the past by viewing a large collection of vintage clothing assembled by the Belgian-born Ukrainian Nadia Halaburda and her three sisters. They began their collection of embroidered clothes as far back as 1983, and embroidered themselves, a skill that they learned from their mother long ago. Now, their collection includes about 15 full suits and 60 hand-embroidered shirts. In the West, not many people know about the embroidery, the "genetic code" of Ukraine, and Nadia Halaburda, who now lives in Munich, says that the Ukrainian national dress should be promoted more. And so should all Ukrainian art. The exhibition in Bruges makes a small but significant contribution to this.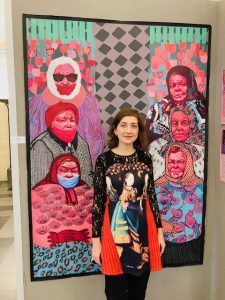 Yana Hudzan with her painting Red Carpet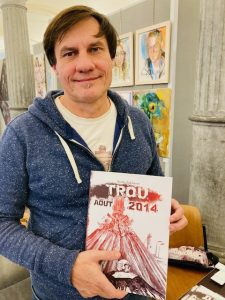 Sergiy Zakharov with his graphic novel "The Hole"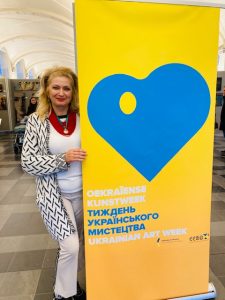 Svitlana Lebiga, the organizer of the Week of Ukrainian Art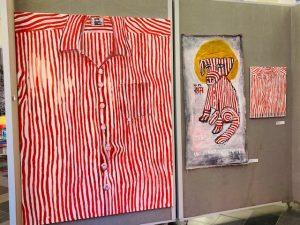 Paintings by Dmytro Kolomoitsev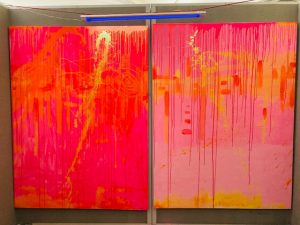 Paintings by Denys Adushkin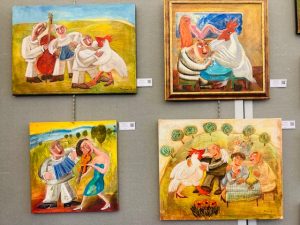 Paintings by Roman Zuzuk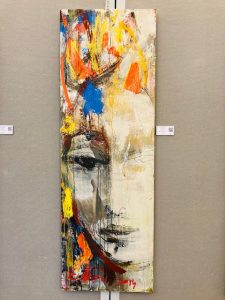 Painting by Eduard Bielskiy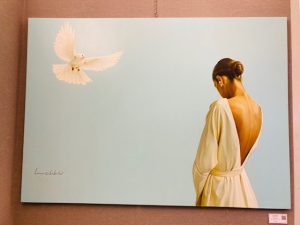 Painting by Vasyl Luchkiv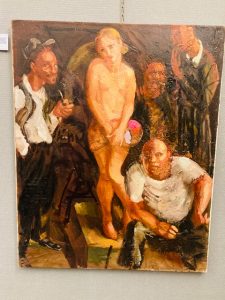 Painting by Sasha Repka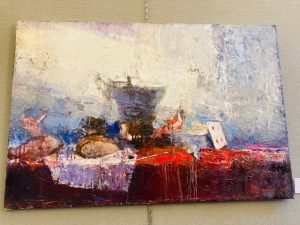 Painting by Sergiy Reznychenko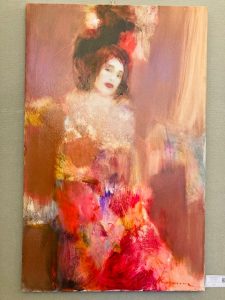 Painting by Nina Reznychenko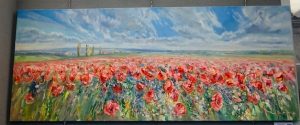 Painting by Mykhaylo Mykora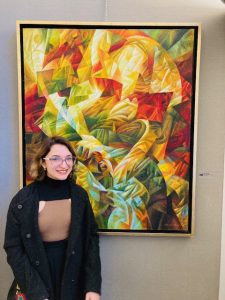 Curator Olena Naidko next to the painting by Ivan Turetsky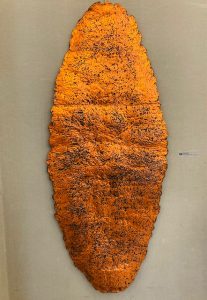 Work by Ruslan Tremba
Natalia Richardson, from Bruges
Follow us on Twitter