According to General Staff data, UAVs attacked from the southeastern direction (Primorsko-Akhtarsk), Kalibr missiles – from the Black Sea (an enemy frigate in the area of Yalta).
In total, the enemy used:
15 Shahed-136/131 combat UAVs
8 Kalibr cruise missiles
"All targets were destroyed by the air defence forces and means of the Air Force in cooperation with units of other components of the Defence Forces. Anti-aircraft guided missiles and small arms of direct cover units were used," the General Staff reported.
Fires broke out in several locations in the city of Odesa caused by falling fragments of missiles and drones after air defence operations. Rescuers are working.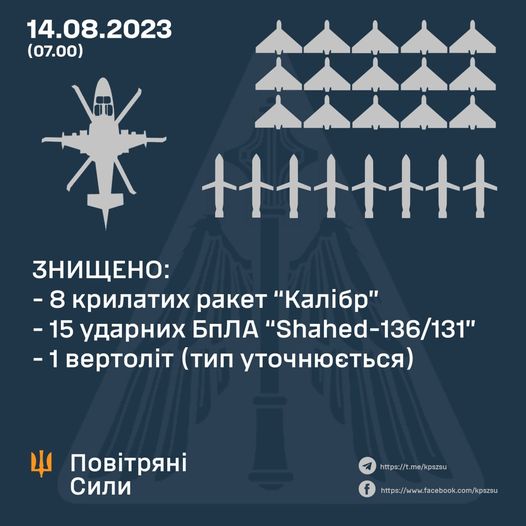 In general, over the past 24 hours, the Russian occupiers launched two missile strikes, 43 airstrikes, and about 55 MLRS attacks on the positions of our troops and populated settlements. As a result of the Russian terrorist attacks, unfortunately, civilians, including children, were killed and injured. Occupiers hit houses in Shyroka Balka, Kherson region. A husband, a wife, and a baby girl, who was only 23 days old, were killed in the shelling. Another child of the couple, a 12-year-old boy, died in the hospital. Doctors were unable to save him. Residential buildings and other civilian infrastructure objects were destroyed.
The probability of launching missile and air strikes on the entire territory of Ukraine remains high.
Natalia Tolub